Safety paddle
Barre
PEDAYAK is a "hands-free" kayak with pedals and propeller, fast, manoeuvring, versatile.
By its design and characteristics, it completely renews the current practice of kayaking. 
Concentrate of innovations, it is the culmination of 10 years of R & D. 
PEDAYAK is an elaborate version of "sit-on-top" kayak. 
It has the same equipments of a real boat while on a restricted space, which are: 
- A high-performance propeller propulsion system 
- A steering system with rudder and rudder Their combination (the rudder is located just behind the propeller) 
allows manoeuvrability and a surprising agility on this type of boat.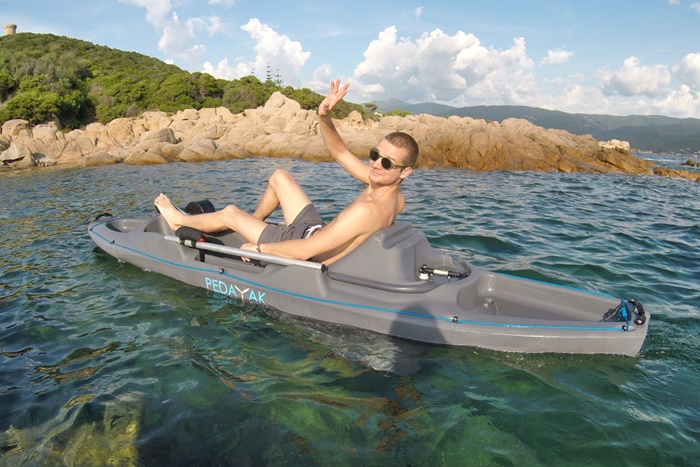 Rudder
Steering stick
Helm
Pedals
Keels and propeller
Mast housing
kart
Location for DUO, TRIO and PRAO frames
Tubular handles and safety paddle
Features :

- 50% faster than an equivalent kayak.
- Allows activities such as strolling, fishing, photography, video, binoculars, etc.
- Can beach (the propeller and rudder are protected by 2 side keels), go into very shallow waters (35 cm 
draught), go backwards (retropedalling), turn on site. It is silent.        
- Can bring one or two additionnal light passengers (kids less than 30 kg).
- Can get a sail. It then becomes a real sailing performing boat.
- Has 2 bottle and can holders, GPS holder, empty pockets, front and rear storage bins. 
- Can be equipped for fishing with additionnal pockets, fishing rod holders, a soundeur.
- Can be used in pairs, such as a catamaran, with an intermediate removable structure, allowing 
sunbathing, bringing children, or taking diving equipment, bivouacs, etc.

NEWS (less than one year)
October 2020 : Launching of the PEDAYAK PRAO, a device that allows both beach-side leisure activities and navigation for raids and excursions further from the coast in complete safety. With its rigging it becomes a very pleasant sailing boat, always flat and running straight, even in gusts of wind.
Click on the image to see the video.
Pedayak at the Nautic 2019 in Paris, 7-18 december: Introduction 
of new products: Pedayak rigged with a sail and Pedayak DUO 
(catamaran)       
Pedayak at the BOOT in Dusseldorf from 18 to 26 of january 
2020, hall 8A, booth C45.

During the Coronavirus sanitary crisis, L'Aquaphile continues 
its activities. 
All means are implemented to allow our customers to enjoy 
our products especially during the summer season.

For the Covid shut-ins, David-L'Aquaphile offers you a rock 
song : Enfermés (Shut-in in French)!

Enjoy!  Click on the image to enlarge :

End of the confinement in France: David-L'Aquaphile offers you 
(again) a rock song : Titanic rock !
Click on the image to see the video :
November 2020 : Confinement again, it becomes a mania : 
Covidmania (rock!)

Click on the image to see the video :
All our best wishes and season's greetings pour 2021. 
Click on the card to enlarge.       
We were happy to come and meet you in end 2020 at the Cannes Yachting Festival, the Grand Pavois in La Rochelle, and the Nautic in Paris. But unfortunately all these shows are cancelled !

February 2021 : Launching of the PEDAYAK Electric. 

PEDAYAK Electric is a "hands-free" kayak with hybrid electric and/or 
muscular drive, manoeuvrable, stable, versatile and 
modular. 
It is a concentrate of technological innovations.
Click on the image to see the video:
March 2021: Launch of the PEDAYAK TRIO. 
PEDAYAK TRIO is a trimaran version of PEDAYAK. It is particularly 
stable, safe and seaworthy, especially when sailing. It can be equipped 
with an electric version.
It is an excellent boat, both for the family (it can take two light 
passengers) or for the excursion further from the coast. 
Click on the image to see the video:
2 and 3 April 2021:
 
Free trials of the PEDAYAK TRIO, PEDAYAK ELECTRIC and 
MAC-DUCK in Toulon, from 9:30 am to 12:30 pm. 
Beaches of Mourillon, fourth cove (the one of the sailing clubs).
Come, join us and enjoy!
Philippe is a biking adventurer with a great track records of on the three continents. His next adventure is a tour of the Mediterranean sea. He has selected the PEDAYAK TRIO, with his sail.
He trained for a week in May on the Lac du Bourget and kindly sent us his video. Click on the picture to see it.
Discover his blog.
L'Aquaphile will be on holidays from 31 of july to 23 of august (but still working to test new toys). Kindly think to send your orders before.
L'Aquaphile has adapted its PEDAYAK TRIO for persons with reduced mobility to enable them to enjoy waters sports : Click on the picture and discover the PEDAYAK HANDI.
The whole PEDAYAK range will participate at the International paddle sport show in Lyon, France, from September 29th to October 2nd 2021,
stand C19. Free testing of the equipments on the Rhone river, on Saturday, October 2nd.

We are looking for commercial agents and importers.
Contact : contact@aquaphile.fr